Watch Chef Maria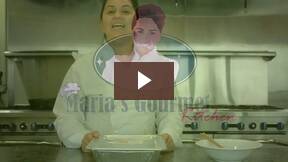 Get Our Latest News
"From my kitchen to yours," she thought, and
Maria's Gourmet Kitchen was born ...
Executive Chef & Owner, Maria Bedrosian, was born and raised in Chicago. Her family immigrated to the United States having escaped the Armenian Genocide during World War I. Growing up, Maria was always surrounded by great food with both her mother and father sharing their passion for cooking with her. Dinner at her parents home was a time for gathering together with family, sharing the day's events and enjoying delicious meals with the entire family. Those early years made a big impression on Maria's appreciation for the finer foods as well as her strong sense of family.

Maria's culinary ability came about through a natural love for preparing great tasting dishes passed down to her through the generations. As a devoted wife and mother, the family dinner table became an important venue for strengthening her family union, as it was for her as a young child. A typical day in Maria's home involves preparing a fresh, delicious meal for her family to enjoy together. That together with a devotion to on-going learning has helped Maria develop her unique talent and approach for making gourmet meals her family and friends have come to love.

Maria has trained formally at the world's premier culinary arts institute, Le Cordon Bleu School of Culinary Arts in Paris, France. Established in 1895 , it boasts famous Alumni including Julia Child and Giada De Laurentis.

In 2011, Maria gained a bold social vision. Recognizing the challenges of living in an age where both spouses work and children are often over scheduled, family time at the dinner table is often sacrified. In fact, as she did more research into the extent of the problem, she found that there was a 1/3 decline in family dinners resulting in families spending less time together then they did 25 years ago. Even more surprising was her discovery that research has shown that regular family dinners can have an impact on teen academic success and reduce the rate of drug and alcohol use.

It was a defining moment for Maria and sealed her mission to cook for her community as she did for her family. 'From my kitchen to yours,' she thought and Maria's Gourmet Kitchen was born to prepare fresh, ready-to-cook dinners for on-the-go families.